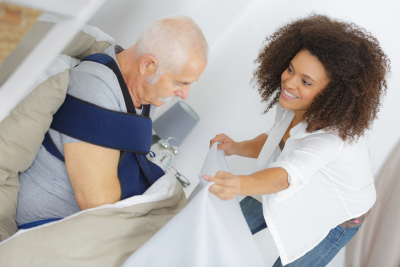 New Path Home Health Care is a family-owned home health care agency with two office locations in Rutherford and Perth Amboy, New Jersey. This agency was founded in 2013 and is comprised of dedicated individuals who have extensive experience in home health care and leadership. The founders have very distinct backgrounds in business management, education, and supervision. They were motivated to create New Path Home Health Care because of personal experience. They were at a point in their lives where their parents were receiving home health care services due to the development of Alzheimer's and the onset of Dementia. This new stage in their lives presented them and their families with new challenges that they embraced and confronted head-on. After years of supervising the care their parents were receiving, they realized that there was a need for "more" — more dedication, more compassion, more accountability and customer service. New Path Home Health Care was born from this realization.
New Path Home Health Care is licensed by the Division of Consumer Affairs. Our staff is licensed, certified, insured, and trained in the New Path Approach. The nursing staff has over ten years of experience with home care. Our certified home health aides operate under the supervision and direction of the director of nursing. The staff undergoes an intensive interview process, annual comprehensive health screenings, background checks, orientation to agency, training, and verification of credentials and references. Our coordinator, in conjunction with the director of nursing, works closely with you to find the best services for your needs.
Our agency operates seven days a week, twenty-four hours a day. We service the following counties: Bergen, Essex, Hudson, Middlesex, Morris, Passaic, Somerset, Sussex, Union, and Warren. We accept private clients and those insured by HMO.
 
What Is the New Path Approach?
The New Path Approach is our philosophy and our vision. It portrays our foundation, our core values, and our beliefs that have been the basis of our work since 2013.
Our Philosophy
New Path Home Health Care is committed to providing its clients with the utmost care, while providing the highest quality customer service. We believe our clients have the right to receive exceptional home health care services delivered with compassion, dependability and distinction.
Mission Statement
Our mission is to offer the highest quality care to each and every one of our clients. We make great efforts to achieve the best possible outcomes and client satisfaction by providing individualized care using highly trained, oriented, and certified home health aides and nurses.
Our Beliefs
At New Path Home Health Care, our clients are the priority. We believe their wellbeing, satisfaction, and safety come first at all times.
We believe our employees are part of our family.
We believe our employees work with us, not for us.
We believe in working as a team where each member forms an integral part of the whole.
We believe we must act in accordance with the code of ethics — showing honesty and integrity at all times.
We believe our work is guided by our core values — compassion, dependability and distinction.
Contact New Path Home Health Care
New Path Home Health Care provides your family member with compassionate, distinct, and dependable services. You can contact us today. We are available 24/7.